An Imperial Brown walk-in freezer/cooler unit has taken center stage at a culinary training center, part of a school district's trade school program in Genessee County, Mich.
The customized unit, built for the PISD Genessee Intermediate School District in Flint, Mich., contains a large window open to the hallway so that students can be observed in hands-on training in the meat prep area.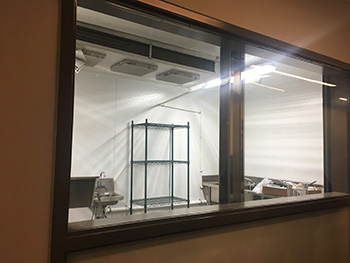 ​
To achieve this, Imperial Brown constructed two 48-inch by 48-inch windows in the unit, which allow for an 84-inch by 48-inch viewing area in the meat prep area. 
​
The culinary training center is attracting interest from other school districts that offer trade school programs, according to Ron DeMeester, consultant for the project, who works with Imperial Brown.
"It's a beautiful facility," he said, with LED lighting in the meat prep area and white aluminum finished interior walls and ceilings. The exterior is stainless steel.
The 3-compartment unit is a freezer/cooler/cooler. All doors are equipped with 14-inch by 24-inch windows as an added safety feature. "The students and faculty can easily see in and out of the walk-in, without opening a door in traffic," said Kristy Heatley of Imperial Brown.
Imperial Brown's North Carolina manufacturing facility used hybrid construction to build the combo unit, combining high-density urethane edge (HDU) and low-density urethane edge (LDU) panels. Imperial Brown is the only manufacturing facility in the country with the ability to produce HDU/LDU combination panels, a distinct price and technical advantage to customers.
This hybrid technique creates a product that has advantages over traditional products, either a complete LDU or HDU walk-in cooler. The technique gives the factory complete flexibility to build coolers of any shape or size, while containing cost. The result is a stronger, consistent product, with a more efficient production time, a lower materials cost and a higher overall R-rating.